STADIUM SEAT CUSHION
/ KNEE PAD
These custom Stadium Sport Seat Cushions bring much needed comfort to cold,
Hard metal stadium and wooden bleacher seating at sporting events.

Great way to show off your star athlete, sports team or brand.

Come with high impact graphics and player and team info & logos
These cushions can serve double-duty as a kneeler that gardeners, plumbers,
Mechanics and maintenance workers will appreciate.
Cushions are made of polyester top with black rubber backing, 10" x 13.25" x 1/2"
Use our images or send us yours
Actual product designs may vary
Price: $26.00
Football Stadium Cushion / Knee Pad



These cushions come with high impact graphics
Player info and team logos
Basketball Stadium Cushion / Knee Pad
These cushions come with high impact graphics
Player info and team logos
Wrestling Stadium Cushion / Knee Pad
These cushions come with high impact graphics
Player info and team logos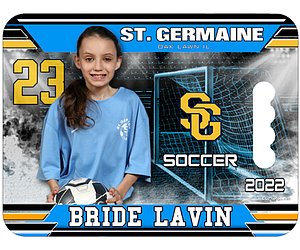 Soccer Stadium Cushion / Knee Pad
These cushions come with high impact graphics
Athlete info and team logos
Volleyball Stadium Cushion / Knee Pad



These cushions come with high impact graphics
Player info and team logos

Swim Stadium Cushion / Knee Pad
These cushions come with high impact graphics
Player info and team logos
Baseball Stadium Cushion / Knee Pad
These cushions come with high impact graphics
Player info and team logos
Cheer Stadium Cushion / Knee Pad
These cushions come with high impact graphics
Athlete info and team logos
top
Actual product designs may vary